"I'm ashamed to eat my fill, and when I see and read about what happens in this vile world, it's impossible for me not to be revolted"

(from a letter dated the 28th of November, 1970)
2023 The major discographic event of 2022, is the release of CD Naxos, "Henri Tomasi's Complete Violin Works", world premiere. This record of musical excellence around the violinist Stéphanie Moraly, with the Orchestre Symphonique de la Garde Républicaine conducted by Sébastien Billard, and with the pianist Romain David gets the most glowing appreciations and is unanimous in the media: Diapason ***** "Superb, dare it!" (December 2022), Classica **** "Excellent" (December 2022), La Marseillaise-Zébuline ("Maestria of performers for pieces of major interest from 1923 to 1962" (09/11/2022), Corse Matin ("Twelve tracks of musical happiness" 26/10/2022), etc… (See the complete media file to come).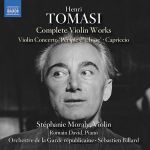 To watch the trailer, it's here! A complete file under the corresponding tab will be available soon.
After being presented on France-Musique on November 23, 2022 as "the disc of the day" in the program "En pistes", events will continue on this same channel: on January 4 in the program "Musicopolis", then on May 20 in the program public "Générations France-Musique", where the Capriccio will be performed by Stéphanie Moraly (violin) and Romain David (piano).
Created in 2021 at the Opéra de Marseille for the composer's fiftieth birthday, the brilliant musical and human portrait directed by Edouard Exerjean based on Henri Tomasi's intimate correspondence will be presented at the Conservatoire d'Aix-en-Provence on 28 March 2023.
***
In 2022, a recording of the Trio à cordes by the Black Oak Ensemble was released by Cedille Records with the title "Before the Storm". The first recording of the Trumpet Concerto by the Royal Stockholm Philharmonic Orchestra conducted by Fabien Gabel and performed by Hakan Hardenberger was released by BIS Records (the finale being presented in its original version recently found). The construction of the Corsican Conservatory Henri Tomasi in Ajaccio, designed by Rudy Ricciotti, began in 2022 (see the article in Corse-Matin).
***
Events (non-exhaustive lists)
2013 / 2014 / 2015 / 2016 / 2017 / 2018 / 2019 / 2020 / 2021 / 2022