"I'm ashamed to eat my fill, and when I see and read about what happens in this vile world, it's impossible for me not to be revolted"

(from a letter dated the 28th of November, 1970)
2022 opened with the broadcast of two new documentary films directed by Paul Rognoni for FR3-Corse-Via Stella. One, Requiem pour un oubli, A Requiem to forget, is a biographical overview based on interviews with the composer, whose voice and musical extracts alone form the soundtrack; the second is an audio-visual recording of the Requiem for Peace in concert at the Sorbonne's Grand Amphitheatre on 30 November, performed by the Sorbonne University Choir and Orchestra (COSU), directed by Nicolas Agullo. These films extend the tributes paid to Henri Tomasi in 2021 for the fiftieth anniversary of his death and the 120th anniversary of his birth. A second international colloquium was also held at the Sorbonne with the help of the IREMUS (program et talks).
Other major releases include a first recording of the Trumpet Concerto by Hakan Hardenberger and the Royal Stockholm Philharmonic Orchestra conducted by Fabien Gabel by Bis Records – the finale being presented in its recently rediscovered original version.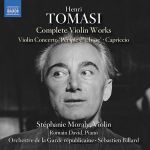 The revelation of 2022 will be the "Disc of the Fiftieth Anniversary" devoted to the complete works for violin, performed by the great french violonist Stéphanie Moraly, the Orchestre Symphonique de la Garde Républicaine conducted by Sébastien Billard, and Romain David, piano. This CD will be released by Naxos Records in early September. To watch the trailer, click here !
Another world discographic premiere: the recording of the String Trio by the Black Oak Ensemble to be released by Cedille Records an album entitled "Before the storm".
The foundations of the Conservatoire de Corse Henri Tomasi designed by Rudy Ricciotti will be built this year in Ajaccio.
A first biography of the composer – in English – is being prepared by the French-English musicologist Emilie Capulet, who has recently recorded the complete piano works.
The madness of the present, future and past times being what it is, here is a special "call for tenders" for these 2 world creations which would be :
– the Satirical Play for orchestra, voice and corps de ballet, L'Eloge de la folie, ou l'Elan vers le Tout, The praise of Madness or the impulse towards the Great All » on a text by Daniel Mesguich
– the Concerto in memory of a murdered poet, F.G. Lorca, in its original version for 2 guitars, commissioned by Ida Presti and Alexandre Lagoya. This creation would also be a tribute to the most famous guitar duo of the 20th century.
***
The friendly tribute from the Corsican plastic artist Toni Casalonga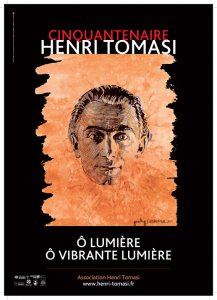 ***
Events (non-exhaustive lists)
2013 / 2014 / 2015 / 2016 / 2017 / 2018 / 2019 / 2020 / 2021